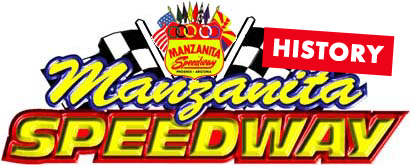 By: Windy McDonald
THE FIELD JUST KEEPS GETTING BETTER
The weatherman did in the Coors Light Buddy Taylor Memorial, but just temporarily as the Quality Bumper Company half mile track series for the Arizona Sprint Cars, along with the season finale for the Arizona Midgets and Mini Sprints has been rescheduled for November 18th. It will be an early show with racing starting at 6:30.
Meanwhile, it appears that the running of the NAPA/Liberty Buick/Peoria Pontiac-GMC Non Winged Western World Sprint Car championships is going to have its best field in over 20 years. Early reports lead Manzanita officials to expect at least six of the top seven USAC sprint car drivers and there are rumors abounding that some of the World of Outlaw drivers will be shedding their wings to try for the $10,000 payday in the championship feature for the November 3-4 event.
USAC champion Tony Elliott, second ranked Jay Drake, fourth place J.J. Yeley, fifth place Derek Davidson, sixth Dave Darland and seventh Bud Kaeding are all expected to be among those challenging the west coast aces.
Even though Drake fell just short in his battle with Elliott for the driving title, he brings a full list of accomplishments with him as he returns to Manzanita for the first time since he went USACing full time a couple of years ago. He won the Indiana Sprint Week by dominating the field, scored three wins with the Non Winged World Championship midwest tour, is near the top in the USAC Silver Crown series and has racked up numerous Midget Car wins.
Yeley, the Phoenix driver who has spent the summer in the midwest campaigning anything with wheels is currently ranked fourth in the Silver Crown and finished fourth in the USAC Sprints. He missed a few of the Sprint races due to his commitment to the Indy Racing Northern Lights Series.
Darland is in position to win the Silver Crown title with only one race left on the schedule. Davidson is ticketed to drive the Dave Ellis Racing sprinter, a car that won at Manzy last year with Kevin Doty at the wheel. Kaeding will be driving for Jack Yeley in his try for the pot of gold.
As soon as the World of Outlaws end their season, at least two of the top drivers are expected to notify Manzanita officials of their intentions. It could be very interesting but names will be with held until the entries are official.
The three center sections of grandstands are reserved and there are still some reserved tickets available. The ticket office is open Tuesday-Saturday from 9-5 and phone orders are accepted at (602) 276-7575.
***
(October 16) It's auf wiedersehen, adios and goodbye time at Manzanita Speedway as we play "crown the champions" and wrap up the 2000 season. The final weeks of the Manzanita Speedway regular season should be on every fans "must see" list. Here is the way it shapes up.
Friday night, October 21st brings an end to the Super Stock, Factory Stock and Bomber Stock season. It has been an interesting year for all three divisions but the championships in both the Factory Stocks and Super Stocks have already been determined. After a season long battle between Larry Price and Ken Seastedt went down to the October 13th outing with Price taking the title after Seasted had his first DNF since July 8th, the challenger can get a measure of pleasure if he wins the season finale and joins Price as the most productive drivers at Manzanita this year. Price rests alone at the top of the winner's list with 10 wins and Seastedt, along with Bomber driver Tom Kozak, are the only driver's who can tie him.
Doug Shadd has wrapped up a second straight Super Stock Car title and has eight wins this year. George Fronsman has been the most consistent driver and hopes to end the season the way he started it—in the winner's circle. After winning the season opener Fronsman has not repeated but has an amazing 18 top five finishes and 22 top tens.
Kozak will have a tough time in winning his tenth of the year as he has to start last due to a rule that places any driver with five wins or more at the back of the pack. The Bombers are attracting their biggest fields ever making it more difficult for Kozak to make it to the front. The last two races have produced two new winner and it would not be at all surprising if there is another new face in victory lane in the season finale.
On Saturday night, October 20 the Arizona Sprint Cars, Midgets and Mini Sprints wrap it up. Again, the driving titles have been decided but the action should be fierce and those drivers who have already secured the titles can let it all hang out.
Marty Miller, the Sprint Car Champion for year 2000, has more than established himself as one of the favorites in the Coors Light Buddy Taylor Memorial which is part of the Quality Bumper Company Half Mile Track Championship Series. Miller has competed in the past two California Sprint Car races and has gained more experience on the big track and without the worry about points he can let it all hang out in trying for his third win of the year.
Bob Ream, Jr. won the last half mile track show and will be favored to win his ninth win in eleven starts. Others who figure to be tough on the big track include Terry Belcher, Jr., Davey Bateman, Ricky Johnson, Eric Wilkins and Josh Pelkey.
Wilkins and Pelkey are locked in a tight battle for runner up honors to Miller with Wilkins holding the edge after posting eleven straight top five finishes.
Steve Sussex, Jr., as usual, will be the favorite in the final race of the year for the Midgets. He has had a dream season in driving for Larry Young and has runaway with the championship. David Birmingham, Jr. will again finish second in points.
The 2000 Mini Sprint champion is Troy Johnson but he may elect to again set out. He turned his car over to Chris Hines in the last outing which was won by Ron Pickering.
The Sands Chevrolet-Geo Dirt Modified & Dwarf Car Nationals take center stage for the October 27-28 weekend as the two divisions compete for over $20,000 in purse and prize money. The pits should be crowded with over 90 cars expected to do battle on the 1/3rd mile track. Ron Jones of Wisconsin is the defending Dirt Modified Nationals champion but the field will be a strong one with four time IMCA National Champion John Saathoff, New Mexico's Royal Jones and Anton Salopek expected to be near the front.
All the local Dwarf Cars will be on hand and a large number of cars from throughout the west will be vying for the winner's share of the purse.
Liberty Buick and Peoria Pontiac-GMC have come onboard in joining NAPA Auto Parts as sponsors of the Western World Non Winged Championships on November 3-4. The race is part of the Non Winged World Championship Series and officials are expecting one of the largest non winged fields in years as they go after the $10,000 first place money in the Saturday night 40 lap feature. The SCRA alone attracted 41 cars on October 14 and most are expected for the Western along with USAC standouts Tony Elliott, Dave Darland, Bill Rose and others. Manzanita also hopes to lure Jay Drake, the year's hottest open wheel driver who won three of the NWWCS races in the midwest last summer.
TheWestern also marks the return of hometown favorite J.J. Yeley who won both nights of last year's race. At this writing J.J. is currently ranked fourth in both the USAC Sprints and in the Silver Crown Series. He will be at the wheel of the ABC Sand & Rock car which is a new Beast Chassis.
The three center grandstands are reserved and there are still some reserved tickets available.
Manzanita's final promotion of the year will be the annual Motorized Mayhem, better known as the 150 Lap Bomber Enduro on November 11th. Well over 50 cars are expected for the longest race of the year which pays $1000 to win. As the flyer for the event says, "No experience necessary". In order to enter it takes only a trip to your nearby wrecking yard and about $300 buys a car. With only a few minor adjustments (rules are available at the Manzanita office) the car will be ready for action.
***
Phoenix, AZ (August 25) Three drivers added their names to Manzanita Speedway's growing list of main event winners in Friday night's portion of the track's 49th anniversary races but It was a night that IMCA Dirt Modfied driver Jason Soyko would just as soon forget. After starting 19th in the 23 car field on Manzanita's 1/3rd mile track Soyko drove to eighth in only six laps. Then he spun out on the seventh lap and was placed at the back of the pack. He then put on a great driving display that put him in the lead but his car quit midway through the final lap and he coasted across the finish line in 6th.
Darin Center who started fifth was in the right place at the right time to garner his first win of the year. Center bested Jim Perkins and rookie driver Mark Williams.
Rick Ward increased his points lead as he took fourth, his 13th top five finish of the year while second ranked Kenny Hatfield, Center's team mate was a no show. Joe Warner took fifth ahead of Soyko, Dennis Heath, Rick George, Dan Klinder and Bill Kretschmer.
Jason Black bested Kinney and Heath in the semi and Ward captured the trophy dash.
Ken Seastedt gained ground on points leader Larry Price in the Factory Stock chase for the championship as he came out of the sixth row to score his 7th win of the year while Price could do no better than 11th. Terry Mumaugh had his best finish of the year as he chased Seastedt across the finish line and John Glynn finished third. Dan Shepherd, winner of the trophy dash was fourth just ahead of Tim Worth. Rounding out the top ten were Clifton Maggard, Harry Nevel, Cindy Meredith, Brian Davis and Glenn Stumm.
Mike Lilly topped the field in the semi main as he beat Scott Buck and Darrel Bednarek.
Dino Soto scored his first win of the year at Manzy as he drove from 9th to 1st in the Dwarf Car feature and beat the father/son team of Casey Cain and his dad, former champion John Cain. Danny Matthews was fourth ahead of six time winner Tony Martin. Behind them were George Rosnick, Art Garcia, Rick Kochanowski, Dennis Wutzke and trophy dash winner Spencer Rexall.
Ernie Green was the best in the Bomber Stocks as he took advantage of a front row starting berth to edge eight time winner Tom Kozak who started in the 9th row. Justin Stevens, who started 16th, finished 3rd. Trophy dash winner Wendell Fletcher was fourth and Charlie Simpson took the checkered flag in fifth. Behind them came four time winner Stacy Bennett, Frank Outlaw, Daniel Romero, Dustin Shertz and Scott Attwater. .
The addition of Center, Soto and Green to the winner's list brought the total to 67 for the year.
SUMMARY
DIRT MODIFIEDS
Main event: 1. Darin Center 2. Jim Perkins 3. Mark Williams 4. Rick Ward 5. Joe Warner 6. Jason Soyko 7. Dennis Heath 8.Rick George 9. Dan Klinder 10. Bill Kretschmer 11. Rick Kinney 12. Robert King, Jr. 13. Ricky Thornton 14. Randy Harrison 15. Darrel Van Bruggen 16. Dave Van Bruggen 17. Anthony Madrid 18. Dan Fitzgerald 19. Jim Hurd 20. Eric Center 21. John Morris 22. Hank Logue 23. Jason Black
Semi main: 1. Jason Black 2. Rick Kinney 3. Dennis Heath 4. Dave Van Bruggen 5. Anthony Madrid 6. Dan Klinder 7. Jason Soyko 8. Rick George 9. Eric Center 10. John Morris 11. Jim Hurd 12. Terry Belcher, Jr. 13. Rene Madrid
Trophy dash: Rick Ward
FACTORY STOCKS
Main event: 1. Ken Seastedt 2. Terry Mumaugh 3. John Glynn 4. Dan Shepherd 5. Tim Worth 6. Clifton Maggard 7. Harry Nevel 8. Cindy Meredith 9. Brian Davis 10. Glenn Stumm 11. Larry Price 12. Mike Lilly 13. Scott Buck 14. Mary Thompson 15. Jerry Lee 16. Seth Simmons 17. Darrel Bednarek 18. Dominique Goodwin 19. Anthony Madrid 20. John Thomas
Semi main: 1. Mike Lilly 2. Scott Buck 3. Darrel Bednarek 4. Anthony Madrid 5. Seth Simmons 6. Bob Taylor 7. John Thomas 8. Mary Thompson 9. Dominique Goodwin 10. Jeremy Goetschous 11. Mark Williams 12. Bill Bennett 13. Ron Fletcher 14. Ed Huttleson
Trophy dash: Dan Shepherd
DWARF CARS
Main event: 1. Dino Soto 2. Casey Cain 3. John Cain 4. Danny Matthews 5. Tony Martin 6. George Rosnick 7. Art Garcia 8. Rick Kochanowski 9. Dennis Wutzke 10. Spencer Rexall 11. Wes DeBeaux 12. Sandy Matthews 13. Paul Ross 14. Joe Swonger 15. Ricky Johnson 16. Peter Lang 17. Kevin Cain
Trophy dash: Spencer Rexall
BOMBERS
Main event: 1. Ernie Green 2. Tom Kozak 3. Justin Stevens 4. Wendell Fletcher 5. Charlie Simpson 6. Stacy Bennett 7. Frank Outlaw 8. Daniel Romero 9. Dustin Shertz 10. Scott Attwater
11. Phillip Hales 12. Zack Ziggler 13. Gary Arms 14. Randy Allen 15. Danny Martin 16. Larry Gordon 17. Tim Fletcher 18. Randy Paris
Trophy dash: Wendell Fletcher
****
Phoenix, AZ (June 29)Manzanita Speedway's employees and officials will be putting in some overtime between July 1st and July 8th. . During that time frame the Southwest Phoenix track will host five nights of racing featuring eight different divisions. For one of the few times this year, however, there are no Friday night races on the schedule this week.
While the Action Pit Stop Shop Firecracker 50, featuring the Arizona Sprint Car Association Sprint Cars in a full card of racing topped off with a 50 lap feature on the 1/3rd mile track and a holiday fireworks show, are the headliners, there is something for every fan starting with the Super Stock, Factory Stock and Mini Sprint Car Race Saturday night, July 1st.
Manzy's employees get to rest on Sunday and then hit it again for the Firecracker 50. They will be back on Tuesday night, July 4th with Factory Stocks, Bomber Stocks and Trucks, plus more fireworks and then get a two day respite before the Super Stocks, Dwarf Cars and Bombers take to the short track for the Friday night, July 7th outing.
The long week wraps up Saturday night, July 8th with the International Motor Contest Association Dirt Modifieds sharing the 1/3rd mile track with the Factory Stocks.
Each division has its own story in the millennium season. The weekly showdown between Doug Shadd, Anthony Madrid and George Fronsman in the Super Stocks has kept the fans on the edge of their seats all season long. Larry Price has been showing championship form in the Factory Stocks as he has built a 64 point lead over Brian Davis and has his early season nemesis Ken Seastedt another six points in arrears. In the mini sprints it has been all Jeff Greszler who has won five of the six races run at Manzy.
The Arizona sprints will be welcoming back three of its stars who more than amply represented them in the Non Winged World Championships the past two weeks. Bob Ream, Jr., Charles Davis, Jr. and Tony Smiley showed both the west coast sprint car drivers and those with the United States Auto Club that they have all the necessary talent to compete on a national level. Ream competed in three events and made the feature each time with a fourth place finish his best effort. Davis made the main event twice and his best effort was a 7th. Smiley also made the finals twice.
Even that trio may find it tough against a rejuvenated Eric Wilkins who decimated the 25 car field in last week's half mile track outing.
Tony Martin is the only multiple winner at Manzanita in the Dwarf Cars and he leads the three members of the Cain family in the latest points standings. Brothers Casey and Kevin rank just behind Martin while their father, John, is 4th in points.
Race time for each of the five nights of racing is the usual 8:00 p.m.
****
Phoenix, AZ (June 12) As we approach the midpoint of our fiftieth season we have sprint cars, sprint cars and more sprint cars for our avid open wheel fans.
The Empire Machinery Sprint Car Owners of Arizona will be making their first start on a half mile track in about four years when they run in the Roads West championships Saturday night, June 17. Round two of the Quality Bumper Company half mile championships for the Arizona Sprint Car Association takes place in the Hank Arnold Memorial on June 24 and then it's the Action Pit Stop Shop Firecracker 50 for the ASCA on Monday night, July 3.
There is more open wheel action for the first two races and the Arizona Midget Racing Association run companion events with both the winged sprinters and the non winged sprints.
Winged sprint car fans have patiently waited for the June 17th outing. The SCOA delivered a great field for their return to Manzanita in April and they have a star studded field lined up for their half mile show. So far this year they have averaged over 24 cars per race.
USAC veteran Ricky Hood leads the field. Hood, driving for Joe Herrera, has been dominant in the first seven races with four main event wins, four fast times, two trophy dash wins and three heat race victories. He brings a comfortable 85 point lead over Jeff Slinkard into the Roads West event.
Calvin Landis won the short track race at Manzanita on April 8th while Slinkard and defending champion Marty Wilcox have also driven into the winner's circle this year.
Rookie driver J.R. Patton, with his eye on a World of Outlaws future, is having a phenomenal year. The former Quarter Midget champion has notched three top five finishes and has been in the top ten in all but one of the seven races run this year. He enters the June 17th race ranked fourth in points, only ten out of third place.
The Arizona sprints will be making only their second start on the famed half miler and their first race will be hard to top. When the checkered flag fell on the 25 lap feature in the first Quality Bumper Company on April 1st, only 3.7 seconds separated the top six drivers with Charles Davis, Jr. edging Marty Miller by 0.028 seconds. We expect more of the same in the Hank Arnold Memorial.
The ASCA sprinters are also the headliners in the Firecraker 50. The sprints will be providing the fireworks on the one third mile track while the track honors America with its annual fireworks show during intermission. It is doubtful, but entirely possible, that the ASCA drivers can match the Memorial Day 50 lapper when Marty Miller, Josh Pelkey and Eric Wilkins cross the finish line in a narrow, blanket finish.
The car count for the midgets is picking up and the competition has been fierce as only Steve Sussex, Jr., the current AMRA points leader has managed a double win. Other winners have been Bobby Seals, Derreck Herron, Eric Wilkins, Mike Leslie, Bob Ellis and Jeremy Sherman.
Following the sprint car events the next three weeks, they will take a short break. The Arizona Sprints will not return until July 22nd and the Winged Outlaw sprints will have to wait until September 9th for their next try at the half mile oval.
As always, Manzanita will be offering a great family sport with family friendly prices. Where else can a couple bring two or three kids under the age of 12 for only $24 and then find a well stocked concession stand with a wide variety of good food at affordable prices.
All races through September will be starting at the usual 8:00 p.m.
****
Phoenix, AZ (June 9)
Anthony Madrid and Jeff Greszler added to their impressive win totals in Friday night's races at Manzanita Speedway while Raul Sainz and Jeremy Madrid took their first trip to the winner's circle.
Madrid closed the gap on points leader Doug Shadd who missed the race due to a blown engine with his fourth feature win of the year in the Super Stock cars. He took the checkered flag in front of Don Costa and George Fronsman. Fronsman's third place finish marked his 11th top five finish in the 12 races run at Manzanita. Greszler is now five for six in the Mini Sprints on Manzanita's 1/3rd mile track. He had little trouble in besting Troy Johnson and Bill Matson.
Sainz captured the factory stock car feature and with it notched his first top 10 finish of the year. Dan Shepherd was second and Cindy Meredith's third place finish was her best ever.
Madrid added his name to the list of Bomber Stock Car winners by finishing ahead of Larry Sowacke and Tom Cormier.
SUMMARY
SUPER STOCKS
Main event: 1. Anthony Madrid 2. Don Costa 3. George Fronsman 4. Rene Madrid 5. Kevin Willer 6. Joe Sarginger 7. #6c 8. #36 9. #25 10. Kenny Gill 11. John Romero 12. Dean Woodruff 13. Susie Rupple 14. Bill Warren 15. Mark Hafemeyer 16. Ron Funk 17. Mike Van Winkle
1st heats: 1. Ron Funk 2. Rene Madrid 3. 6c 4. Don Costa 5. Joe Sarginger 6. Mike Van Winkle 7. Susie Rupple 8. #25 9. Dean Woodruff
2nd heat: 1. Anthony Madrid 2. George Fronsman 3. Kevin Willer 4. Kenny Gill 5. #36 6. Mark Hafemeyer 7. John Romero 8. Bill Warren
Trophy dash: 1. Ron Funk 2. Anthony Madrid 3. Mike Van Winkle 4. John Romero
FACTORY STOCKS
Main event: 1. Raul Sainz 2. Dan Shepherd 3. Cindy Meredith 4. Harry Nevel 5. John Glynn 6. Larry Price 7. Timothy Worth 8. Terry Mumaugh 9. Jerry Lee 10. Doug Lehner 11. John Romero 12. Tony Wall 13. Mike Golich 14. #10 15. Mike Lilly 16. Mary Thompson 17. Clifton Maggard 18. Brian Davis 19. Glenn Strumm 20. Jeff Dahl 21. Ken Saxe
1st heat: 1. Glenn Strumm 2. Raul Sainz 3. Harry Nevel 4. Darrel Bednarek 5. Mary Thompson 6. Mark Golich 7. Ken Saxe 8. #93
2nd heat: 1. Dan Shepherd 2. #10g 3. John Glynn 4. Brian Davis 5. Terry Mumaugh 6. Mary Thompson 7. Timothy Worth
3rd heat: 1. Cindy Meredith 2. Jerry Lee 3. Clifton Maggard 4. Doug Lehner 5. Tony Wall 6. Jeff Dahl 7. Larry Price 8. Mike Lilly
Trophy dash: 1. Dan Shepherd 2. Mary Thompson 3. Terry Mumaugh 4. Darrel Bednarek
MINI SPRINTS
Main event: 1. Jeff Greszler 2. Troy Johnson 3. Bill Matson 4. Ron Pickering 5. Mark Butler 6. Rick Greene 7. Brandon George 8. Don Bradley 9. Gary Marker 10. Dave Alexander 11. Kiley Fellars 12. Rick Alexander 13. Randy Carder 14. #30 15. Aaron Hernandez 16. Danny Mathus 17. Dennis Parks 18. Kevin Wolfe 19. Cory Gaulden
1st heat: 1. Rick Alexander 2. Brandon George 3. Randy Cardeer 4. #30 5. Kiley Fellars 6. Gary Marker
2nd heat: 1. Troy Johnson 2. Dennis Parks 3. Mark Butler 4. Don Bradley 5. Corey Gaulden 6. Rick Greene 7. Kevin Wolfe
3rd heat: 1. Jeff Gresler 2. Bill Matson 3. Ron Pickering 4. Dave Alexander 5. Danny Mathus 6. Aaron Hernandez 7. Brian Clark
Trophy dash: 1. Brandon George 2. Corey Gaulden 3. Gary Marker 4. Troy Johnson
BOMBER STOCKS
Main event: 1. Jeremy Madrid 2. Larry Sowacke 3. Tom Cormier 4. Tom Kozak 5. #72 6. Chuck Thornton 7. Gary Arms 8. Chico Hernandez 9. Butch Washburn 10. Howard Powell 11. Ernie Green 12. Charlie Simpson 13. Stacy Bennett 14. Gary Washburn
1st heat: 1. Larry Sowacke 2. Tom Kozak 3. Charlie Simpson 4. Gary Arms 5. #72 6. Butch Washburn 7. Ray Reynolds 8. Howard Powell
2nd heat: 1. Stacy Bennett
05-22-2000
Eric Wilkins is generally regarded as one of Arizona's top open wheel drivers as he has excelled in both sprint cars and midgets during his career. However, his theme song for the year 2000 could well be "If it wasn't for hard luck, I'd have no luck at all".
Wilkins, a former midget car champion has an impressive resume but you would never know it from his record this year. He has managed a win with the Arizona Midget Racing Association and will be one of the favorites in Saturday night's Sunoco Fuels/Arizona Race Mart's Salute to the Indy 500 in honor of Wayne Weiler; However, his luck with the Arizona Sprint Car Association has been so bad that with seven races in the books he has only two top ten finishes, none in the top five.
Wilkins won six sprint car main events last year but, as car owner Jack Rich says, "We are having some problems with our engine program. Hopefully things will go better in Saturday night's 50 lap championship race. We blew an engine earlier this year while running near the front and then had to miss the half mile show where I know that with Eric's experience we had a legitimate chance at getting a win." Wilkins has also been in two crashes, neither of which was his fault.
Wilkins did not a great amount of luck last year. Even though he tied Charles Davis, Jr with his six wins, he was not in contention for the championship due to a number of engine failures...
If Wilkins is to make it to the winner's cirlce for the first time this year he will have to find a way to handle the state's hottest sprint car driver, Bob Ream, Jr. Ream had a bad year in '99 after winning 13 races and the driving championship the previous year but has returned with a vengance. "The Bullet" is three for three in Arizona sprint car competition and was spectacular against the California sprint cars last Saturday night when he outqualified the field and finished fifth in the feature.
Wilkins figures to be one of the favorites in the midget car races as there have been no repeat winners making for wide open races. Bob Ellis, the defending champion, Steve Sussex, Jr, Bobby Seales and Dereck Heron have joined Wilkins as winners.
Weiler, one of several Manzanita drivers who made it to the Indy 500 is again the honored guest in the annual salute to Indy and will be signing autographs prior to the night's first green flag at 8:00.
Manzanita has a full schedule for the Memorial Day championships. Doug Shadd, Larry Price and Tom Kozak lead their forces into battle Friday night. Shadd scored his fourth super stock car race of the year last week, Price got his fifth win in the factory stocks and Kozak continued his win streak in the bomber stocks. Naturally, there are again favored in their repective divisions.
IMCA dirt modifieds are the headliners as Manzanita wraps up its racing weekend Sunday night. They will be sharing the one third mile oval with dwarf cars, trucks and modified trucks.
ASCA POINTS
1. Charles Davis, Jr. 467
2. Marty Miller 454
3. Dan Fredenberg 415
4. Ricky Johnson 371
5. Josh Pelkey 366
6. Mike Martin 363
7. Rob Davis 352
8. Fred Bryan 350
9. Terry Belcher, Jr. 337
10. Tony Smiley 330

[home] [race results] [divisions]
[press release] [photo gallery] [fan survey] [grandstand]
[directions] [history] [contact]